If you run a business where retail experience matters, chances are you would have multiple retail locations like showrooms or retail stores to let your customers experience your brand and products. While you might not notice it, driving foot traffic to your locations become one of most important thing you can do to appeal to more customers.
Many brands utilizes their websites to convert their online visitors to offline visitors. To do this, brands have put in a lot of effort to craft creative retail directory pages on their website – Shopify or otherwise – showcasing their stores in beautifully shot photos, with retail locations and contact.
Here we look at 5 amazingly designed retail directory pages to help you get inspired and design your own!
1. Bourke Street Bakery Australia
The Bourke Street Bakery location page proves that you can include a map + your retail photos in your directory page, and still look amazing.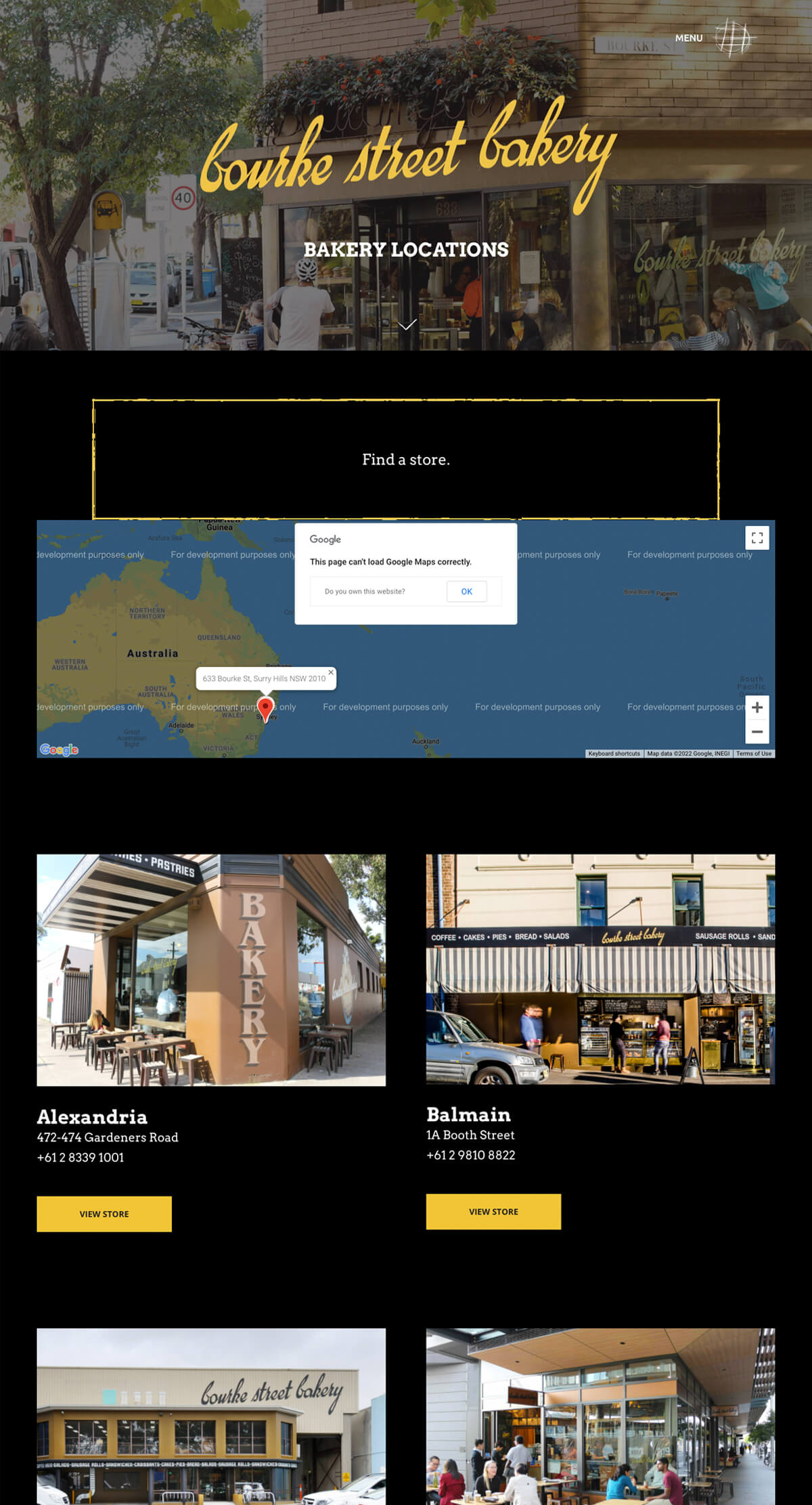 With a black background, Bourke Street Bakery location page has a map based store locator on the very top of the page. A map just won't cut it for any retail businesses that focus on customer experience, Bourke Street Bakery follows up the store locator with big photos of all their retail front, really well lit and show off the environment of the different locations.
Customers can also click on the "View Store" button to see further details of each store, really love this approach.
2. Think Coffee NYC
Just like the aforementioned brand, Think Coffee is another food and beverage (F&B) company that is proud to showcase their retail stores in a photo-album style directory page.
Built on top of Shopify, the Think Coffee location page kick starts by showing a list of all their 11 locations. If you scroll down further, you will see the full retail directory of their 11 locations, complete with slide show photo gallery and location details.
I also really like the ability to allow customers to order ahead for each retail location.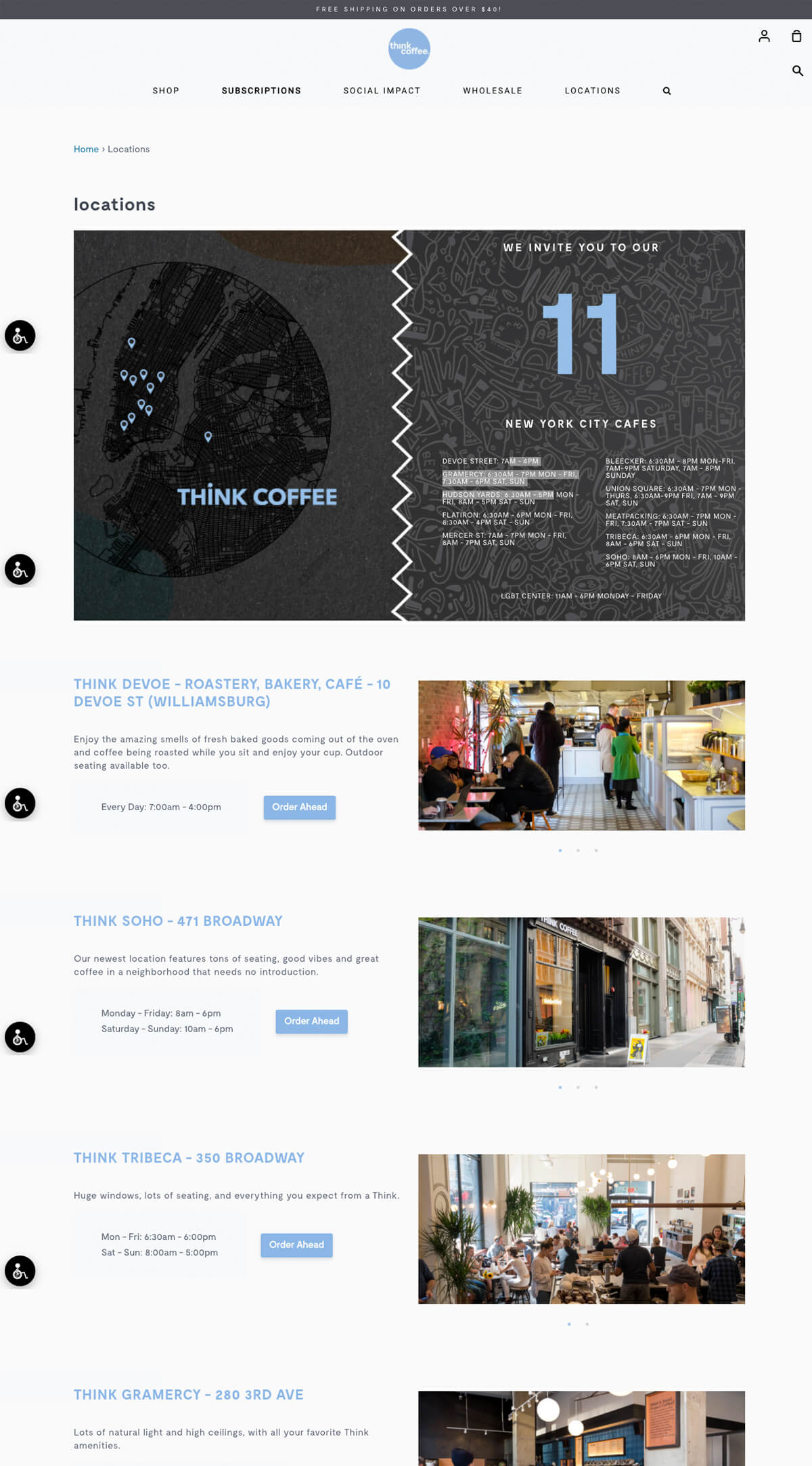 Another thing that is not shown in my screenshot, is that at the very bottom of the page, they also feature their full menu (a great compliment to their Order Ahead function) as well as their store listings in Korea, only without the image to keep the focus on the NYC stores.
3. Space Furniture Australia & Asia
A clean and well organized retail directory page design, this is how I feel about Space Furniture's showrooms page built with Shopify.
With showrooms and warehouses spread across 3 countries, Space Furniture did a great job by putting the showrooms under different tab to minimize the clutter. Site visitors can still have a visual grasp on the store interior and retail experience through their photos featuring some of Space's signature pieces. Interested visitors who want to visit their offline showroom can just click on the "View Map" button to plan a visit to their showroom.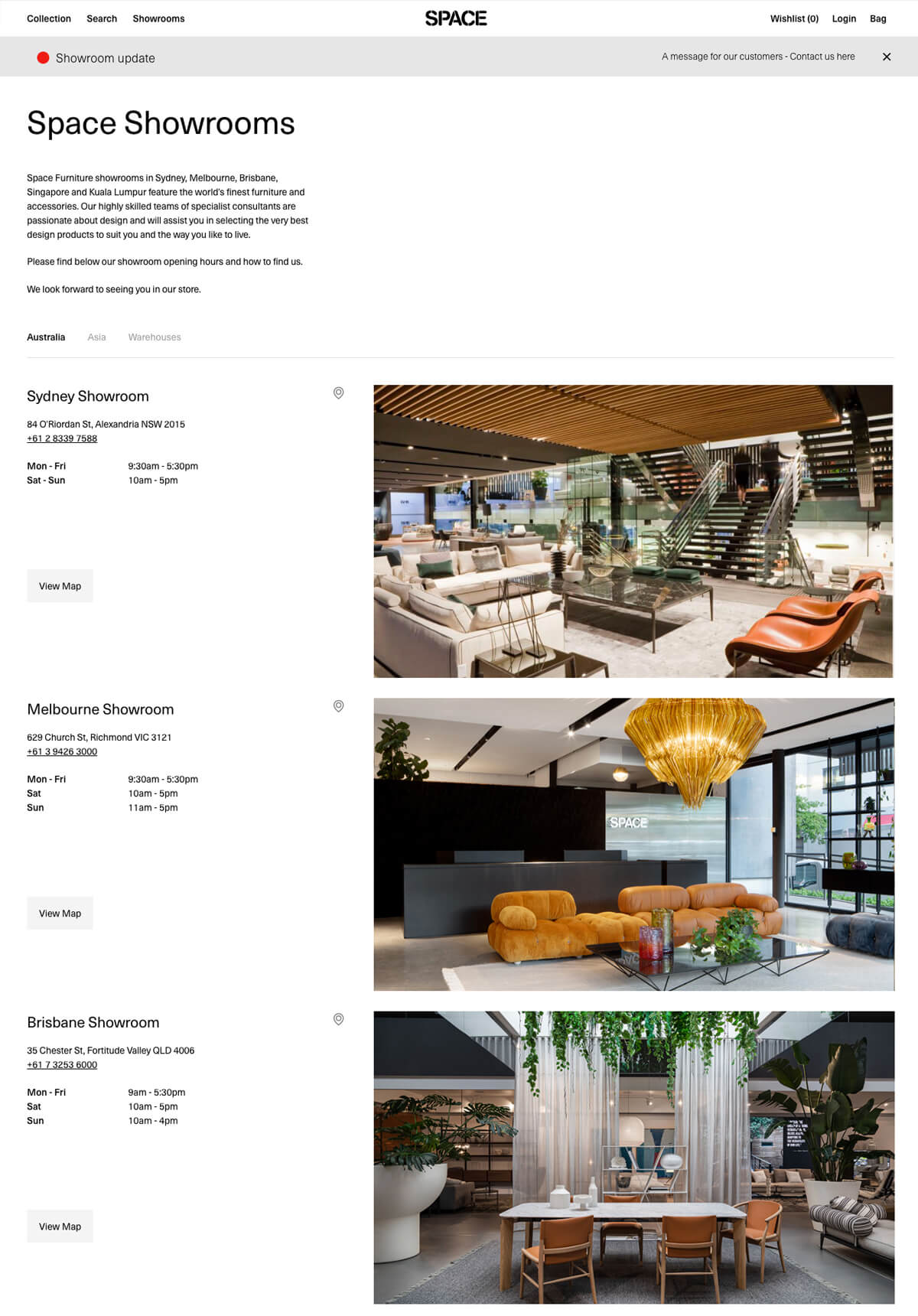 4. Knot Design
Known for their handcraft watch and accessories, Knot Design has multiple gallery shops in different parts of Japan. A photo-album style directory works really well for them, as each shop has unique store exterior design, that conveys the store's as well as the location's identity.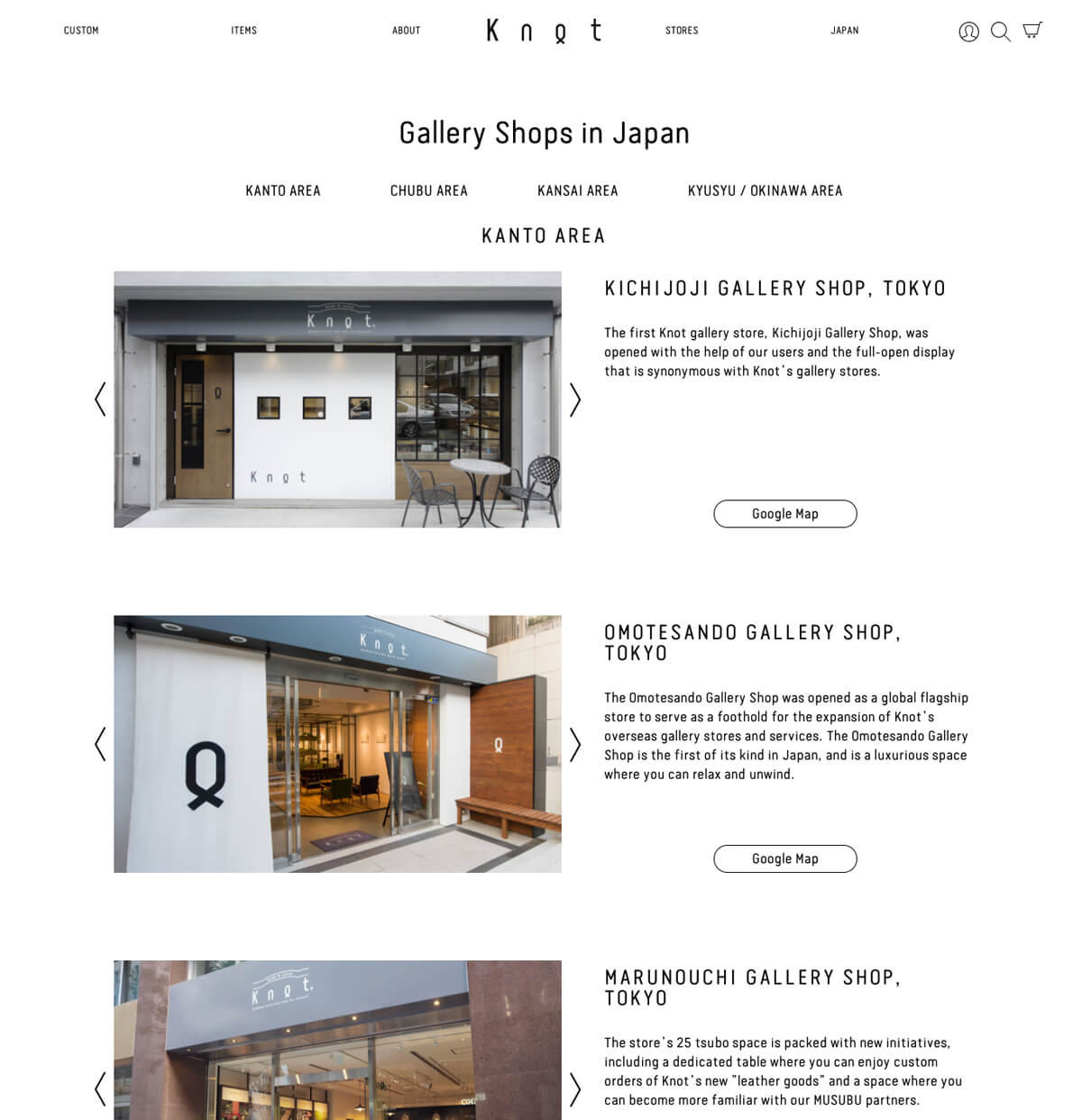 Taking after the design language of their Japanese root and aesthetic, Knot Design's Gallery Shop page does not just reflect that in their Shopify store design, similar vibe can also be felt through their photography direction, which features minimally designed store interior / exterior with clever use of timbre.
5. Afends Concept Store Australia
Unlike other brands you have seen, Afends' concept stores directory page has relatively small photos.
However, this doesn't stop them from standing out, as evidenced with by very unique color scheme and photography direction of each store. The uniqueness of each location really stands out and help customers easily recognized the location, and be attracted to visit the concept stores.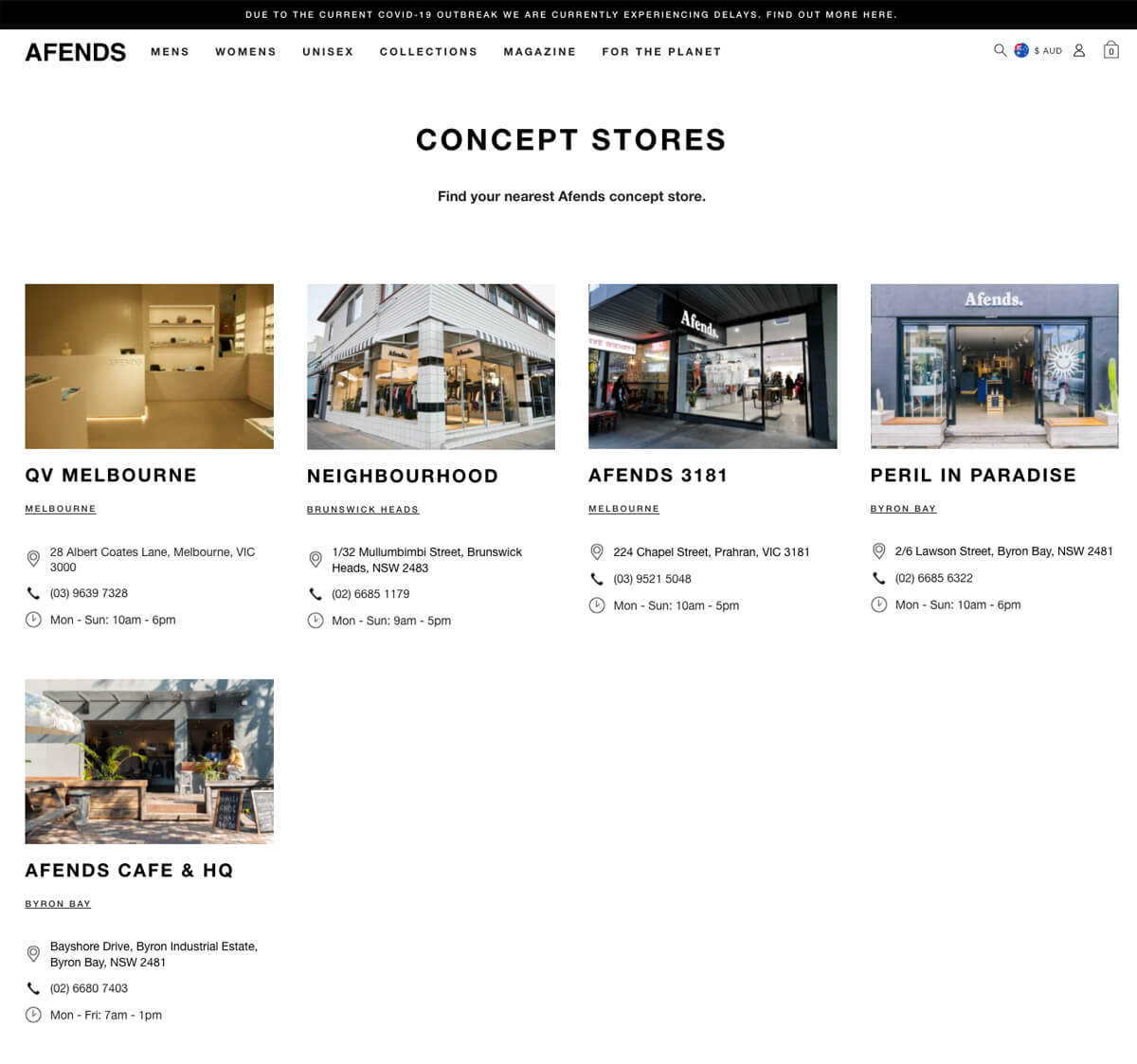 A small observation is also how Afends integrate the dining experience into their retail store in Afends Cafe & HQ. This could really be better reflected by showing more photos.
Thanks for reading! If you love this post and interested to see more design inspirations for store directory, check out my other posts below:
5 Online Shops with Beautiful Photo-gallery Style Store Finder
---
Create your own photo-album style store directory for your Shopify website – no coding needed.
Storefolio Retail Directory is designed to let you do just that. Just install it here from the Shopify App Store and you can easily upload and manage multiple retail locations.